TANAKA 1789
X
CHARTIER
PAVILLON
of Blend 001
Vintage 2019

PAVILLON OF BLEND 001 – 2019 is the second label of our flagship artisanal sake BLEND 001. Inspired by the pavillon (guest house) located adjacent to our kura (sake brewery), it is a "blend" created again for wine and food lovers using Tanaka's handcrafted sakes and blended using the same philosophy as our BLEND 001. PAVILLON is wild, full-bodied, with a mouth-filling texture and made to be enjoyed while young. It is our "homage" to the second wines of Bordeaux's top grands crus.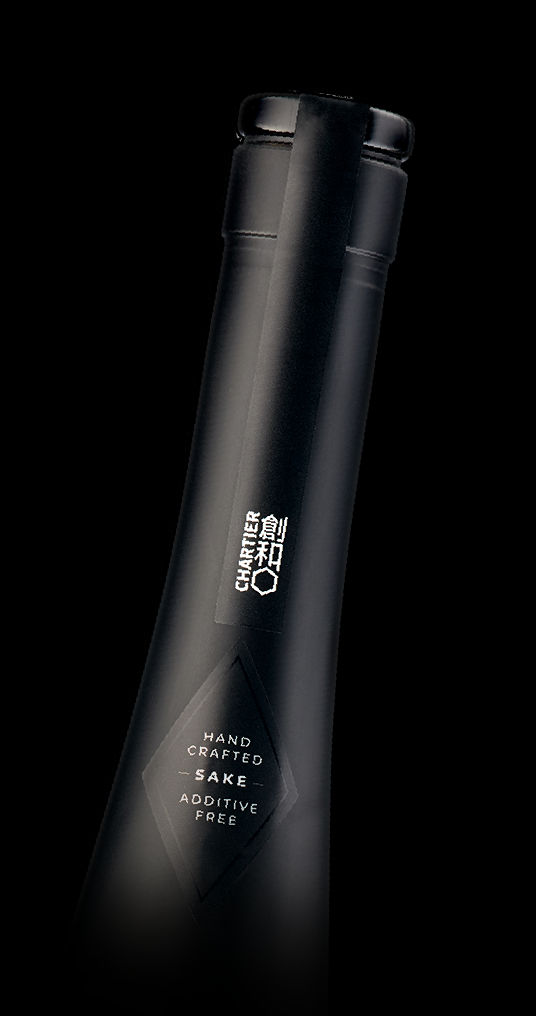 PAVILLON, is a fruitier sake on the nose, with notes of stone fruits as well as mango, on an anise seed background, the signature of BLEND 001 that inspired this second label. On the palate, it is sexier, rounder, softer and more enveloping then BLEND 001, resulting in a slightly less dominant acidity. With charm to spare and coupled with a quite long finish, it reminds drinkers of new world chardonnay wines.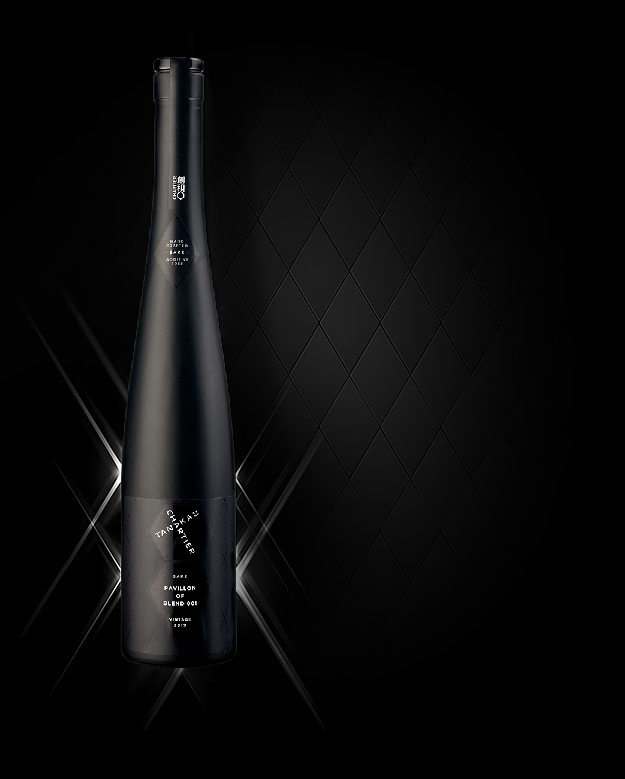 DOMINANT AROMA
Mango, Almond, Milk, Butter.
MOUTHFEEL
Full-bodied, but rounder, softer and more enveloping than BLEND 001.
LINGERING FLAVOURS
Peach, Coconut Milk, Anise notes.
PAIRING
Similar to our BLEND 001 - 2019, this second label which again was crafted for food pairings, has a large palette of possibilities because of its duality of aromatic profiles as well as from its rounder and sexier texture, as seen in new world chardonnay wines. For PAVILLON 2019, select recipes with a creamy, even exotic texture, just as you would normally do with rich, creamy dishes for chardonnay-style wines, such as beurre blanc salmon, mushroom chicken, and a plate of soft cheeses, while also exploring Asian-style dishes based on coconut, mango, pineapple, or cilantro.
THE 10 STEPS IN OUR SAKE MAKING
Rice is the primary ingredient, so we use famous rice as Miyama nishiki but also local rice such as Kura no hana & Gin no iroha for our local identity.

---

At Tanaka Shuzoten, we believe blending rice which has been polished at different ratios brings out the more complex flavours and structure. For PAVILLON of BLEND 001 – 2019, we use an average polish rice of 60% for full umami sensation.

---

This is one of the key factors for developing a premium sake with higher acidity, full-bodied umami and intense flavor. For PAVILLON of BLEND 001 – 2019, we switched from the traditional tsuki-haze koji type to the so-haze koji type.

---

At Tanaka Shuzoten, we believe less is more. All our sakes are crafted without alcohol added, to keep more aromatic elegancy and complexity.

---

Yeast provides some of the flavours of a Nihonshu. We use two types of yeast: the classic #7 for fruit and richness on the palate and the Miyagi B3 yeast to highlight the identity of our prefecture: the length in the mouth.

---

Another key factor is the temperature, as it is with any beverage involving fermentation. For this sake we use higher temperatures (18 °C to 20 °C) to produce a full-bodied sake.

---

We pasteurize only once at a lower temperature (58 °C). This way, we assure the quality and stability of our product for transportation and minimize any changes to the aroma.

---

This revolutionary new step adopted by François Chartier, is based on his aromatic science and tasting knowledge, which allows him to blend (blender) the best with the best, as one does with great wines, champagne, whisky, sherry and port. We make more or less 11 different types of sake, each using different types of rice, as well as different polishing ratios, shubo methods, fermentation temperatures, and inert tank aging times, in order to achieve unique and individualized sakes. There is no recipe or formula; every year is different, every tank reacts differently...Each vintage will determine the initial style, and the impact of tank aging will give direction to the final blend.

---

PAVILLON of BLEND 001 – 2019 is aged 10 months in neutral vessels. Sake is a living product and after blending nihonshu (sake produced in Japan), it needs to rest to reveal its full complexity.

---

For the nine reasons listed above (and many more, including handcrafting, water, soft pressing, filtration, nama zume style, etc.), TANAKA 1789 X CHARTIER produces sakes with long bottle aging potential. Each vintage determines the style. Acidity, texture and umami are brought together to evolve slowly, transforming the aromatic profile and developing nutty sotolon-subtle aromas.
ABOUT SAKE
WHAT IS SAKE?
Sake is a rice-fermented beverage; it is not distilled! Its elaboration process is closer to the one of wine/beer rather than whiskey or cognac.
WHAT ABOUT THE ALCOHOL?
Most types of sake contain between 14% and 18% alcohol by volume (wine averages 14% and vermouth 16%)
TEMPERATURE TO BE SERVED?
It depends of the style of sake and what you are looking for. At TANAKA 1789 X CHARTIER, we create sakes to be served like white wine: around 10°C.