CURRIED APPLE TATIN, MAPLE SYRUP SALTED MACADAMIA NUTS, PAN-FRIED DUCK FOIE GRAS SLICES
May 27, 2021
BACK
This creative recipe combining apple, caramel, curry, macadamia nuts and foie gras was designed around sotolon. This aromatic molecule, which gives a lot of character and depth to the ingredients, is also found in old Sauternes, sherries and in some old sakes (koshu type).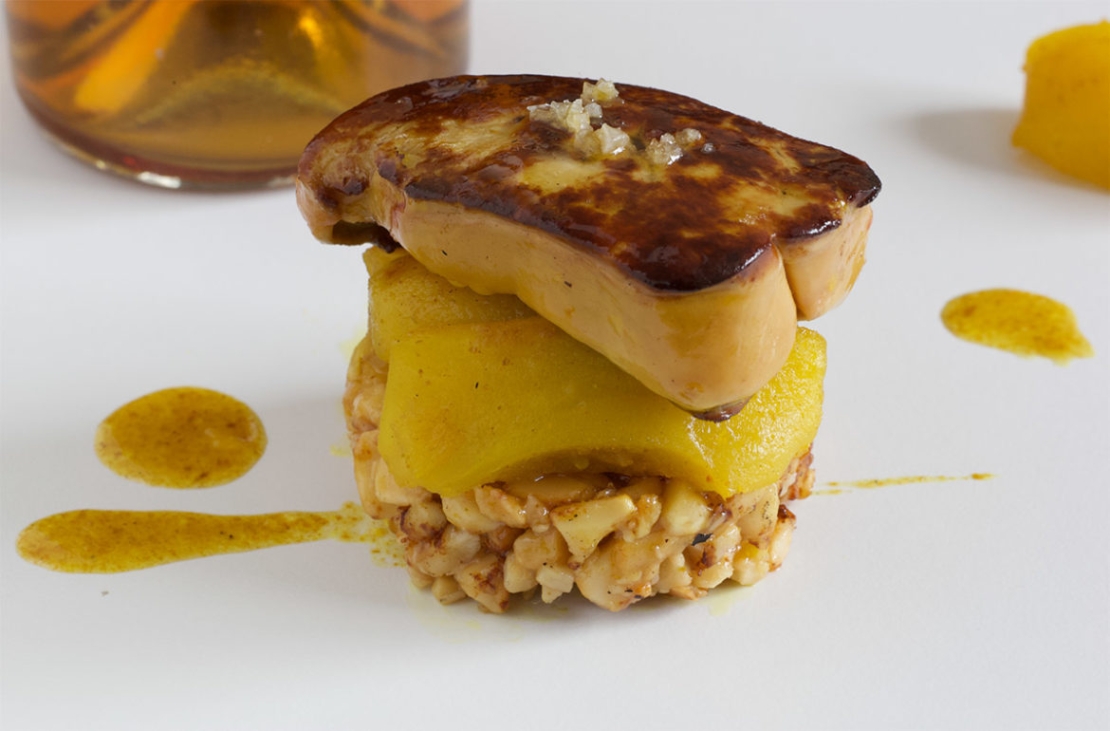 Serves: 4
Prep Time: 10 minutes
Cooking Time: 15 minutes
INGREDIENTS
For curried apple Tatin
3 Red Delicious apples
1 pat salted butter
7.5 mL (½ tbsp) white sugar
5 mL (1 tsp) Madras curry powder
For macadamia nuts
125 g (1/2 cup) salted roasted macadamia nuts
600 mL (2 cups + 7 tbsp) maple syrup
For foie gras
4 slices of fresh foie gras, 80 g each
Salt and pepper
INSTRUCTIONS
Preheat oven to 325 °F (160 °C).
Peel and cut apples into 6 wedges; remove cores.
In a medium saucepan, add butter and sugar.
Place apple wedges in the pan and cook, covered, over medium heat; the apples will produce juices.
After about 10 minutes, uncover the pan and add curry powder. Stir with a wooden spoon, gently enough not to crush the apples.
Cover again and bake in the oven for 15 minutes.
Remove from the oven and let cool in the baking dish, still covered.
Prepare macadamia nut crust.
Coarsely chop nuts with a knife.
In a pan, bring maple syrup to a boil in a pan.
Add crushed macadamia nuts and stir with a fork until golden. Place on parchment paper. This nougatine will be easy to work with as long as it is warm.
Butter the inside of a 5 cm- (2 in.-) high metal pie plate.
Place enough (about 1.4 cm or ½ inch thick) of nougatine into pie plate and press into a straight, even crust.
Let cool and unmold.
Season foie gras with salt and pepper. Sear in a hot frying pan without fat. Sear both sides and finish cooking in the oven at 160 °C (325 °F) for about 3 minutes, depending on the thickness.
Dressing
Place the confit apples on the nougatine crust and top with the pan-fried foie gras.
AROMATIC TRAIL
Tanaka 1789 X Chartier Blend 001 - 2018. Its 13-month aging in our kura (brewery) has protected it against oxygen and increased its aromatic complexity by revealing subtle evolutionary notes that will increase with time, while retaining its structure. When served between 16 °C and 20 °C, it finds its most powerful aromatic profile, with a pleasant texture in the mouth that envelops the foie gras and plays naturally with the sweetness of the caramel and the apple, without weighing it down. A perfect pairing that will bring out the best in this recipe and the Tanaka 1789 X Chartier Blend 001. Jura Vin Jaune, 20-year-old Tawny Port, Malmsey Madeira and natural sweet white wines aged in an oxidative environment are alternatives to sake.