CARAMELIZED SHRIMP, CARROT ESPUMA, MC INTOSH APPLE AND CUMIN SEEDS, CARROT PURÉE WITH SHELLFISH OIL AND SMOKED PIMENTÓN
May 10, 2021
BACK
A colorful and rich recipe to accompany the Tanaka 1789 X Chartier Blend 001! This dish unites two major aromatic families: the aniseed family (carrot, apple, cumin) and the pyrazine family.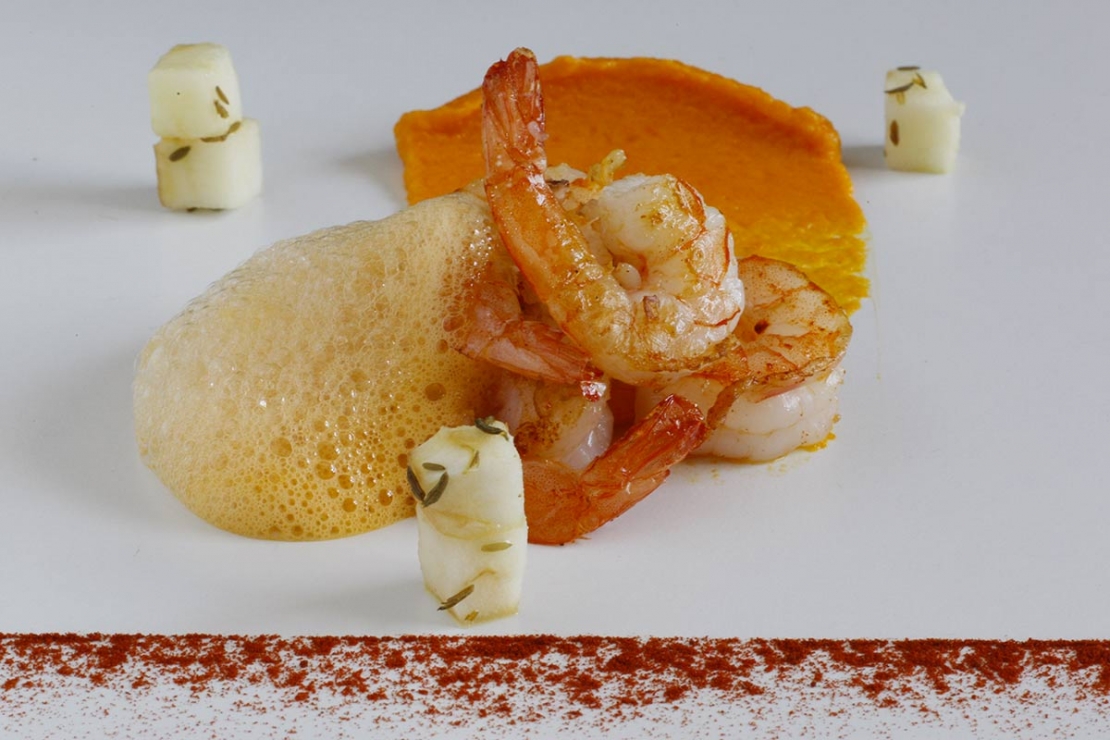 Serves: 4
Prep Time: 10 minutes
Cooking Time: 10 minutes
INGREDIENTS
For the shrimp
20 shrimp 41/50
10 ml (2 tsp) olive oil
Salt
For the carrot purée
4 medium carrots
30 ml (2 tbsp) shellfish oil
5 g (1 tsp) mild smoked pimentón
For the carrot espuma
250 ml (1 cup) fresh carrot juice (in health food stores)
5 g (1 tsp) soy lecithin
salt
For the apple and cumin
1 McIntosh apple
15 ml (1 tbsp) olive oil
5 g (1 tsp) crushed cumin seeds
INSTRUCTIONS
For the carrot purée: wash, peel and dice the carrots. Cook in boiling salted water. Once tender, drain and place in the bowl of a mixer. Add shellfish oil and pimentón and mix until the preparation is smooth. Adjust seasoning and pour into an airtight container.
For the carrot espuma: cool carrot juice and add soy lecithin. Set aside in a deep bowl until the dish is ready to assemble.
Wash, peel and dice apple, place in a bowl and add olive oil, salt and crushed cumin seeds. Cover and set aside in the refrigerator.
To assemble
Place peeled shrimp in a bowl, add oil and salt.
Place shrimp in a large, hot (smoking) skillet. Caramelize shrimp to concentrate all the flavours.
For presentation, place a carrot purée quenelle on each plate, add a few cubes of apple with cumin and garnish with shrimp.
Emulsify carrot espuma, using only the foam that forms on the surface to finalize the dish.
AROMATIC TRAIL
Aniseed-flavoured foods with volatile compounds from the pyrazine family are synonymous with aniseed-flavoured white wines, such as those from the Sauvignon Blanc family, or India Pale Ale. With a strong hop content, the bitterness of this beer is both refreshing and stimulating. This is also the case of the Japanese green tea sencha, Ashikubo, with a nose of passion fruit, chervil, freshly cut grass and notes similar to those of a Sauvignon Blanc or a Spanish Verdejo from Rueda! Served at temperature below 12 °C, Tanaka 1789 X Chartier Blend 001 plays to the same aniseed profile as the above varietals, beer and sencha tea. Moreover, its patina in the mouth will perfectly accompany the dish by polishing the spicy and smoky notes of the pimentón.