PAN-SEARED SCALLOPS, BLOOD ORANGE BRAZIL NUT COUSCOUS, GINGER COCONUT MILK
May 25, 2020
BACK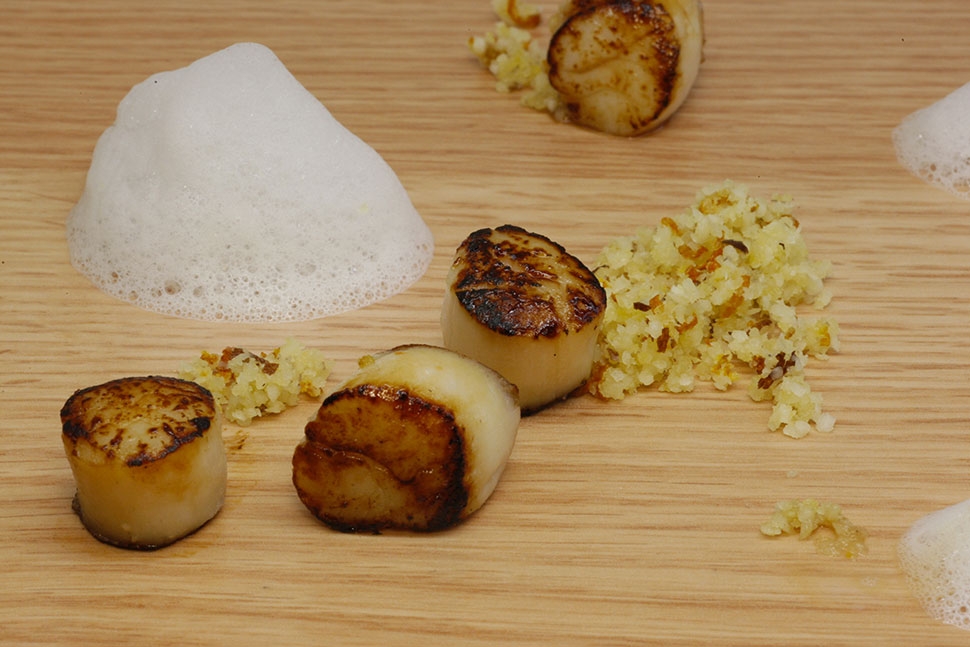 Serves: 4
Prep Time: 30 minutes
Cooking Time: 10 minutes
INGREDIENTS
12 U10-grade scallops
50 g (1 cup) of Brazil nuts
Zest of 1 blood orange
30 ml (2 tablespoons) of olive oil
4 g (1 teaspoon) of fresh grated ginger
1 tin of coconut milk
Juice from half a lime
Salt, ground white pepper
Few drops of olive oil
Fleur de sel
INSTRUCTIONS
Remove the muscle on the side of the scallops, place them on a paper towel and reserve in the refrigerator.
Using a cheese grater, make a fine meal of the Brazil nuts.
Place the blood orange zest in the olive oil.
Grate the ginger using a microplane. Note: This is easier if the ginger has been frozen ahead of time.
Empty the coconut milk tin into a saucepan. Add the ginger and lime juice. Season to taste. Heat and emulsify using a hand mixer. Harvest the foam that rises to the top.
Place the Brazil nut meal in a salad bowl and drizzle half of the olive oil and blood orange zest onto it. Salt sparingly.
Heat a bit of olive oil in a non-stick pan and sear the scallops for 2 minutes on each side.
Place the Brazil nut couscous on a plate, top with the pan-seared scallops and ginger-lime coconut milk emulsion. Top each scallop with a few grains of fleur de sel and drizzle with a little zested olive oil.
AROMATIC TRAIL
Since all the ingredients here are complementary to wines that have been barrel-aged, it is that aromatic path that should be followed, and so the wine or the sake should be served cool, but not cold, around 14 ºC, as is the case with all aromatically generous and slightly woody white wines, or wines and sakes with a lactones aromatic profile. This basically includes all chardonnay-, grenache blanc- and rolle-based white wines from the South of France, all the chardonnays from the New World and other whites dominated by either the roussanne or sémillon blanc grapes, as the sake Junmai style, like the Tanaka 1789 X Chartier Blend 001 Junmai Nama zume.
AROMATIC TIPS
Perfect for lovers of generous, textured and woody red wines, this recipe will be also best served with a junmai sake created for wine afficionados, as it is the case for our Tanaka 1789 X Chartier! The pan-seared scallops, Brazil nuts, coconut and ginger are all foods that are normally complementary with oak barrel aged wines, especially chardonnays, grenache blanc and/or rolle. But junmai sake, especially the Blend 001 from Tanaka 1789 X Chartier, has a burgundy wine aromatic profil that will match perfectly with this sake lover recipe! The Brazil nut couscous is foolproof, requires no cooking and really magnifies the flavor of that nut which, ironically, does not taste much when eaten straight… An extremely simple recipe that allows for great creativity, and singular matching with our junmai sake Blend 001.