NORDIC GRAVLAX TROUT FILLET, GINGER AND GRAPEFRUIT GRANITÉ
August 7, 2020
BACK
My friend and gastronome Martin Loignon, a Ph.D. in molecular biology, came up with the idea for this recipe. It came to him during his precious collaboration in the revision of the molecular texts of the first volume of the book Papilles et molécules/Taste Buds and Molecules, in which he also published the document Révolution Culinaire/Culinary Revolution. Chef Stéphane Modat and I have taken his simple and highly flavoured recipe and made it our own. Ginger is the aromatic marker in this dish with pink grapefruit, which is in the same aromatic family as ginger Zingiberaceae. Martin had also used lychee in his creation, a food twinned with ginger. The lychee gives a more exotic and aromatic profile to this dish, which is already high in complementary flavours. Ideally, some trout fillets should be served without lychee, and others with it, just for the pleasure of the senses!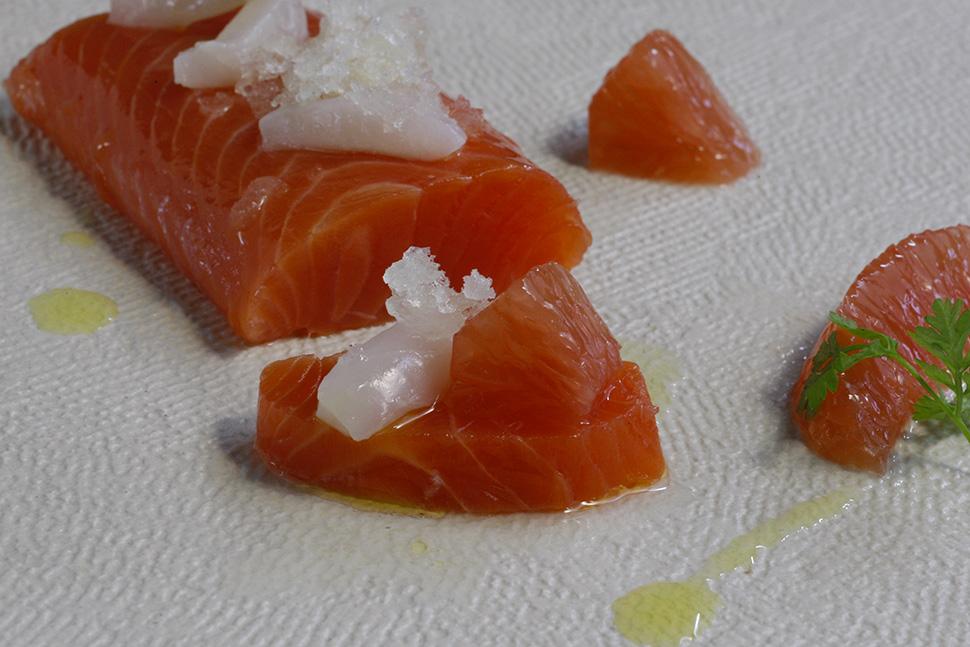 Serves : 4
Prep Time : 15 minutes
FOR THE TROUT
INGREDIENTS
300 g trout, skinless
20 g (1 tbsp) fine salt
25 g (¼ cup) fresh ginger
1/4 cup coarsely chopped lychees (optional), ideally fresh. If canned, drain well and rinse.
PREPARATION
Using a fine cheese grater, grate the ginger. This process will be easier if the ginger is kept in the freezer.
Mix the salt with the grated ginger to make a salt paste.
If your fish market has not already done this, remove the skin from your trout fillet with a knife.
Rub the trout fillet with the ginger salt paste.
Place the marinated trout fillet in plastic wrap in the refrigerator.
After two hours, rinse the fillet to remove excess salt. Place on a paper towel, placing the lychees on one side, then place in the refrigerator.
FOR THE GRANITÉ
INGREDIENTS
300 ml (1¼ cup) spring water
50 g (¼ cup) white powdered sugar
The juice of 2 pink grapefruits
90 g (3 oz) fresh ginger, grated
PREPARATION
In a small saucepan, bring water and sugar to a boil.
Remove from heat, add freshly grated ginger and infuse for 5 minutes.
Once the mixture is lukewarm, add the grapefruit juice.
Strain through a chinois or a fine sieve, pour in a dish and put in the freezer.
Using a fork, scrape often to separate the mixture into crystals once the preparation starts to freeze.
AROMATIC TRAIL
If you do not add lychee to this recipe and stick with ginger and pink grapefruit, go for a dry white Riesling wine, either Alsatian or Australian, or a young junmai-style sake. If you are serving a German Riesling, make sure you select a dry wine with a sufficiently high alcohol content, around 13 %. Otherwise, your Riesling will lack the aromatic presence and body to sustain the preparation.
Finally, if lychee is used in your recipe, go for a junmai daiginjo type sake – which is aromatically exotic like Gewürztraminer wines – or a dry Gewürztraminer of noble origin. In our trials, when we created this dish, the 1994 Gewürztraminer Sélection de Grains Nobles Alsace, Pfaffenheim, France stood out with panache! This demonstrates once again that the power of attraction between the volatile compounds (molecules) of food and wine surpasses the other components when it comes to the harmony between wine and food.
Moreover, to demonstrate this theory to your guests, cook this recipe in different versions, to marry each version with the wine of the same aromatic family as the ingredient used in the recipe:
rosemary trout and Riesling
clove trout and woody Chardonnay
fresh mint trout and Sauvignon Blanc
Lapsang souchong trout and a smoky black tea.
We achieved perfect harmony in the creation of this recipe with:
Version with lychee:

An aromatic white wine with the Gewürztraminer grape variety as produced by Domaine Weinbach with its Cuvée Théo from Alsace, France.
Saké Junmai Daiginjo Blend 002, Tanaka 1789 X Chartier, Miyagi, Japon.

Version without lychee:

A white wine with a straighter profile, from the Riesling grape variety. Again from Alsace: Heissenberg, Domaine André Ostertag, France.
Sake Junmai Blend 001, Tanaka 1789 X Chartier, Miyagi, Japan.