TANAKA 1789 X CHARTIER AWARDED THE SILVER MEDAL AT THE 2020 LONDON SAKE CHALLENGE
October 19, 2020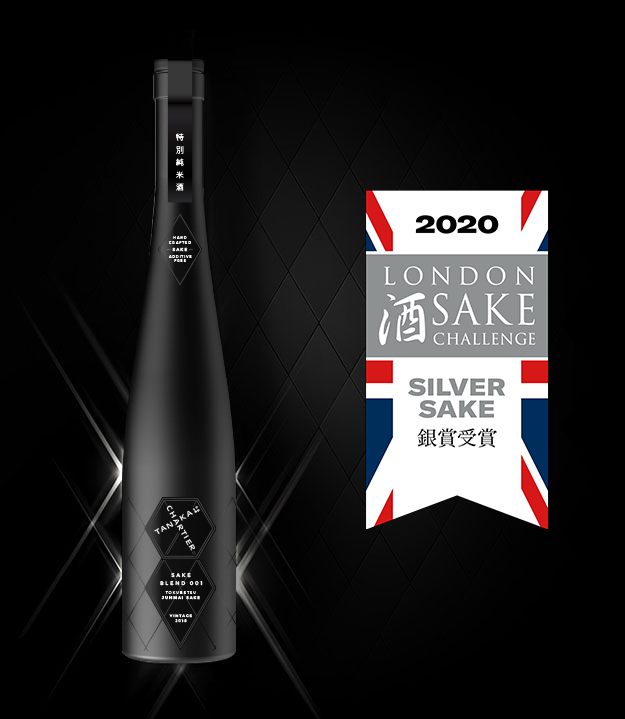 One of the world's most respected sake competitions, the London Sake Challenge, has just announced the winners for 2020. The Tanaka 1789 x Chartier sake project received the Silver Medal for their first-ever handcrafted luxury sake "Blend 001 – 2018 Junmai Nama Zume sake".
A REVOLUTION IN THE WORLD OF SAKE
François Chartier, in partnership with Japan's Tanaka Sake Brewery, is using his aromatic science of "Molecular Harmonies" to magnify Tanaka Sake Brewery's existing sake lines using his concept of Molecular Harmony: 1 + 1 = 3. Chartier created the science of molecular harmonies in 2004 and honed his skills in the art of wine blending with Pascal Chatonnet, perhaps Bordeaux's best oenologist.
It is from this expertise in blending that Tanaka 1789 X Chartier's flagship junmai sake Blend 001 – 2018 was born.
To achieve this specific type of blend, praised by many top wine critics, including Jancis Robinson, Chartier partnered with Tanaka Sake Brewery's toji (brewmaster). Together, they created a line of new styles of sakes reminiscent of the world's best white wines while retaining the soul of sake, which then were used as musical notes to compose a harmoniously blended sake.
The result is the flagship BLEND 001 – 2018. Chartier has found the ultimate balance of an aromatic sake with a dominant mix of an anise-like taste and creamy fruits. The effect is an explosion of flavours in the mouth with a dense and rounded feel, followed by a creamy umami finish. The unique freshness is highly uncommon in sake (with a natural acidity usually found in white wines). This sake has lingering flavours reminiscent of the elegance and versatility of the world's best white wines – like the Loire Valley's anise-like Sauvignon and the creamy full Chardonnay from Burgundy. https://tanaka1789xchartier.com/en/stories
BLEND 001 – 2018 JUNMAI SAKE: ON THE WINE & SAKE LISTS OF THE WORLD'S TOP RESTAURANTS
After an August 2020 launch, Tanaka 1789 X Chartier's BLEND 001 – 2018 junmai sake is already available in many of the world's best restaurants. In Barcelona, top Michelin-starred restaurants Abac, Alkimia, Cocina Torres, Disfrutar and Dos Palillos are already great fans of this handcrafted kimoto sake from Miyagi. And in Japan, some of the best Michelin-starred restaurants in Tokyo and Osaka, such as Araya Totoan, Mitani, Ochiairo, Ogata and Sushi M are serving the new sake blend, with the list continuing to grow each week.Wakana Tabata (Vice-President of GLION Group and Executive Director of the Tanaka 1789 X Chartier project) and François Chartier are also pleased to see that BLEND 001 – 2018 is available at one of Tokyo's most iconic sake shops,Imadeya Ginza at Ginza Six.
https://www.imadeya.co.jp/en/shops/ginza/
ABOUT THE 2020 LONDON SAKE CHALLENGE
Organized by the Sake Sommelier Association (SSA), the London Sake Challenge is Europe's oldest sake contest and one of the most prestigious sake competitions globally. Established in 2012, it pioneered a new style of alcohol competition in Europe: the first to focus exclusively on sake. This year (2020), they again broke new ground by hosting the first-ever virtual London Sake Challenge. This year's event took place in mid-August after an extended entry period. The London Sake Challenge announced the results in October 2020. Building on years of experience and drawing on the sake expertise of their team of Certified, Advanced and Master Sake Sommelier judges, the London Sake Challenge seeks to identify and celebrate the best that the sake world has to offer. Consistently covered by the Japanese, British, and international media, the London Sake Challenge is an excellent opportunity for those looking to boost their product's prestige and expand into new markets.
2020 London Sake Challenge Results: https://londonsakechallenge.com/awarded-sake-2020/