THE PAIRINGS OF FRANÇOIS CHARTIER
March 15, 2021
BACK
"All the pairings are made with Tanaka 1789 X Chartier Blend 001 sake: simply because I've been living in it for three years, so much so that the Tanaka 1789 X Chartier project, even if we obviously drink other sakes, the pairings flow naturally with Blend 001 and showcase its gastronomic versatility."
Pairing the ingredient – Vila Viniteca* – Barcelona
* the largest importer-distributor of wines in Spain, and among the best in Europe, also distributor of Sake Tanaka 1789 X Chartier
The dish: Bellota Iberean Ham, 5 Jotas, 18 months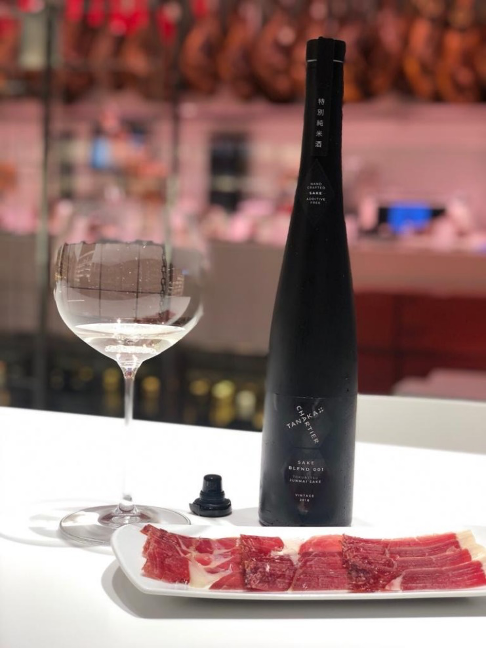 "I've been living in Barcelona for four years and Jamón is the number one flagship product of Spain. The great Bellota is rich in lactone amino acids, and the junmai sake in kimoto or yamahai style are very rich in lactones. Lactones are a family of aromatic molecules found in the great Burgundian Chardonnays aged in barrels: the great Chassagne-Montrachet and Meursault served at 14 °C-15 °C with Jamón, you don't need anything else: it's magnificent! A slice of bread, olive oil, and Jamón with junmai is very great, just as with caviar and oysters. There is a nutty side that also comes back in the Jamón that is also found in this type of sake."
Sake and Truffle – Sofia Be So – Barcelona
The dish: Katsobuchi Ramen Trufado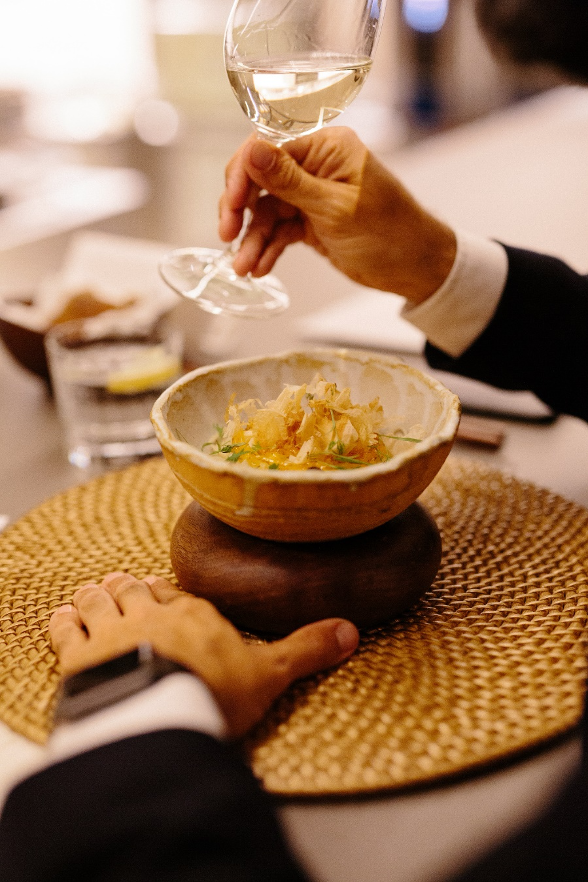 "The katsobushi (dried bonito) shares the same aromatic molecules as the black truffle. So, we made a dish here with a little parmigiano reggiano, which shares the same molecules as the truffle: truffle that is also at the heart of the junmai kimoto blend 001 of Tanaka 1789 X Chartier when it reaches about 16 °C-18 °C in the glass. When it is very cold, it is much more Sauvignon Blanc, because the blend was made this way. It is more aniseed so that you can start the meal with more aniseed dishes like basil, fennel, and company. The higher the temperature rises, the more it becomes very lactose at 12 °C-14 °C, and then around 16 °C-18 °C, the truffle starts to appear, and we can allow ourselves to play in its aromatic universe."
The Trompe-l'œil Pairing – Dos Palillos – Barcelona
The dish: Tofu Unagi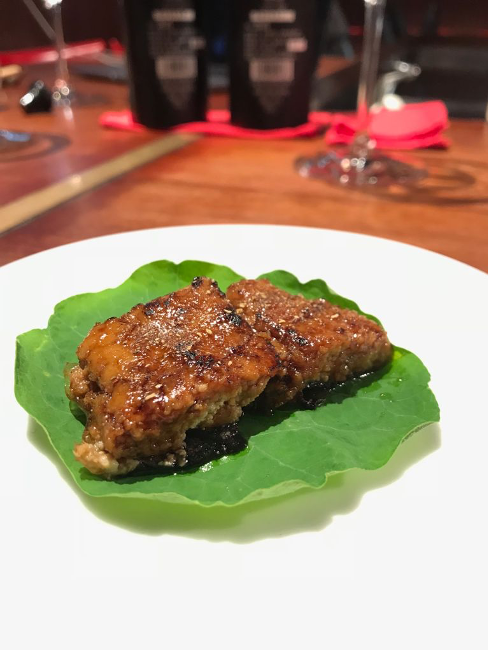 "For lovers of Japanese cuisine, the unagi is Japanese eel lacquered with caramelized soy, a little like barbecue. I'm a big fan of unagi, we were at Dos Palillos in Barcelona (one Michelin star, for 11 years Ferran Adria's right-hand man – Albert Raurich).
Link on Chartier's Website for Dos Palillos event: Dos Palillos Chef - François Chartier (francoischartier.ca)
"Albert served me this dish with my sake and he completely amazed me. He had done it for the Tanaka 1789 X Chartier Blend 001, a perfect harmony at high temperature (around 14 °C), because we are looking for "kochu" style in this sake. Even though it is not a kochu, it will become a kochu sake with time, because it has spent 13 months in a tank, and therefore it is «vaccinated» against oxidation. That's why it keeps as long in the bottle and will age 5 to 10 years in the bottle. A honey-like aspect, very fine floral honey is noted. We are not in chestnut or buckwheat honey, as we see in some koshu. Where the chords were bluffing: it was not unagi but it was tofu! It was tofu treated in the unagi way!
But this idea is that of the great creators: neo sushi means taking things that exist and transforming them in the elBulli way: taking them apart and trying to rebuild them without losing the essence/DNA of the product. Remember, lacquered products with soy sauce, maple syrup or brown sugar with eel, with this type of product (sake junmai) at a slightly higher temperature, it's unbelievably beautiful!"