PEACH PIE, COCONUT MILK AND SCOTCH CUSTARD, TOASTED SHREDDED COCONUT
February 15, 2021
BACK
Serving a sake with dessert? It's possible! Chose a Tanaka 1789 X Chartier Blend 001 junmai sake to surprise and seduce your clients or guests.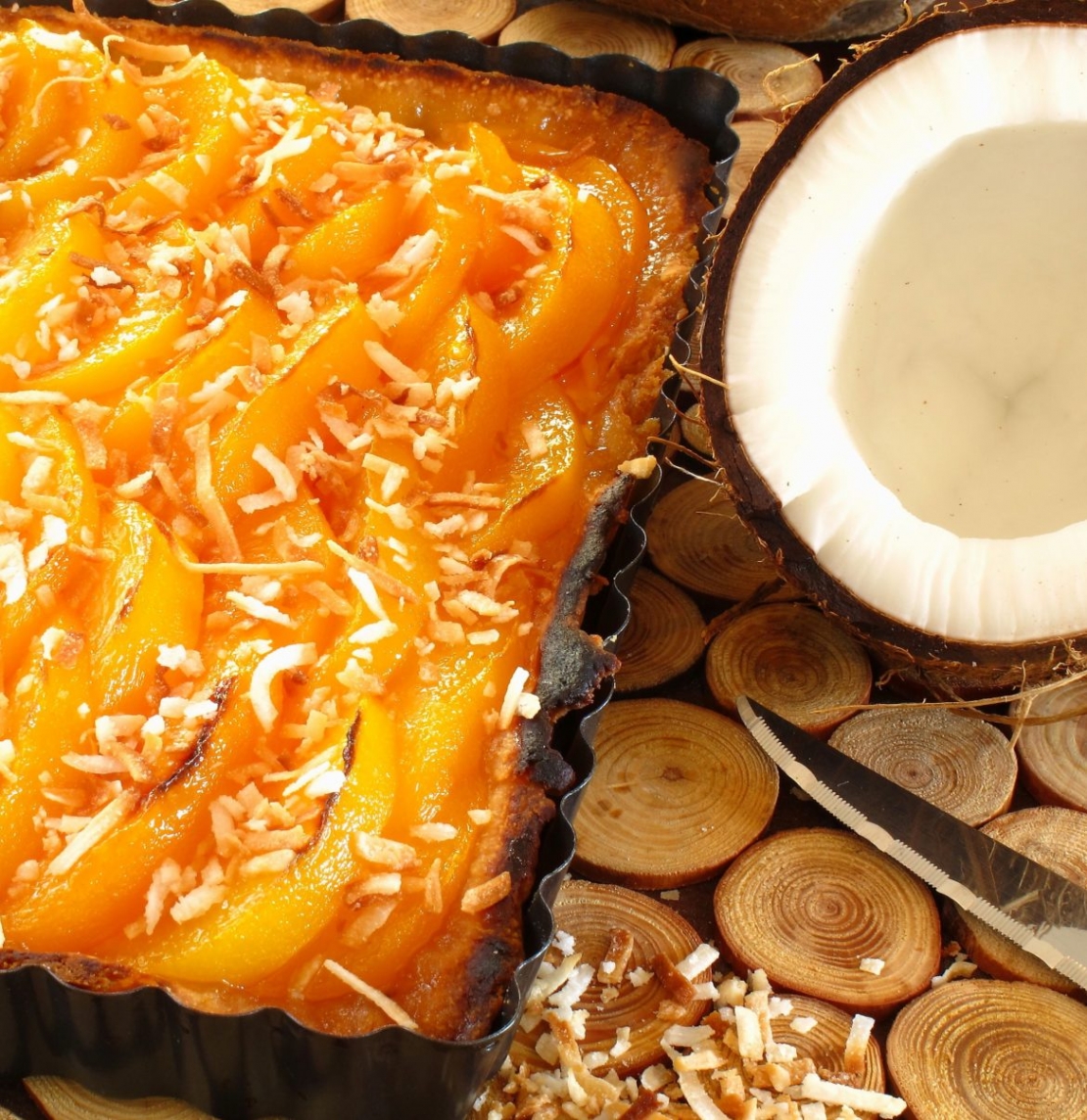 Serves : 4
Prep Time : 15 minutes
PIE CRUST INGREDIENTS
400 g (approx. 3/4 lb.) pie dough
1 can of apricot in light syrup
1/4 cup of toasted coconut flakes
CUSTARD INGREDIENTS
1 1/5 cup (300 g) 3.25% milk
1 cup (250 g) coconut milk
4 egg yolks
1/4 cup (60 g) brown sugar
2 ½ tbsp (40 g) flour
1 ½ tbsp (0.8 oz) Scotch
PREPARING THE PIE CRUST
Preheat oven at 350°F.
Roll out the dough onto a floured work surface. Spread rolled out dough in a pie plate. Prick with a fork and bake until it becomes a nice golden colour.
Set aside.
PREPARING THE CUSTARD
In a saucepan, bring milk and coconut milk to a boil.
In a mixing bowl, whisk together brown sugar and egg yolks until the mixture whitens. Whisk flour in a few batches, and add Scotch.
While whisking constantly, pour boiling milk into the egg mixture.
Pour the mixture into the same saucepan and cook on low heat while stirring constantly. Cook for a few minutes, making sure the mixture does not stick to the bottom.
Once the custard is cooked, pour it into the cooled pie crust. Let cool for a few minutes. Drain apricots and arrange pieces on the custard surface.
Sprinkle with toasted coconut flakes, and return pie to the oven for a few minutes. Remove and let cool at room temperature. Enjoy!
AROMATIC TRICK TIP
For this recipe, you could substitute peaches for apricots, as both are from the same aromatic family. The harmony would be just as powerful! Peach and apricot are the two fruits that have the strongest affinities with Tanaka 1789 X Chartier Blend 001 sake. As suggested in our recipe, when you add coconut milk, scotch and toasted shredded coconut –all of these ingredients being on the same aromatic path as peach and apricot and junmai sake – you reach perfection! Since sake contains much less residual sugar than most dessert wines, you will end your meal on a much lighter note.